Your personalised 3D photo frame
Mademoiselle Louison offers you an original and unique framing of your family photo portraits. Your photo souvenir is enriched with miniature objects and displayed in a showcase, a personalised photo frame made to measure with your desires.
Thus, you add an elegant photo decoration to your interior by choosing either the frame to be posed with the selection of the portrait from an antique book, or the frame to be hung with the painted wooden display case.
Each object is carefully and meticulously made in the workshop-studio by Mademoiselle Louison in Paris.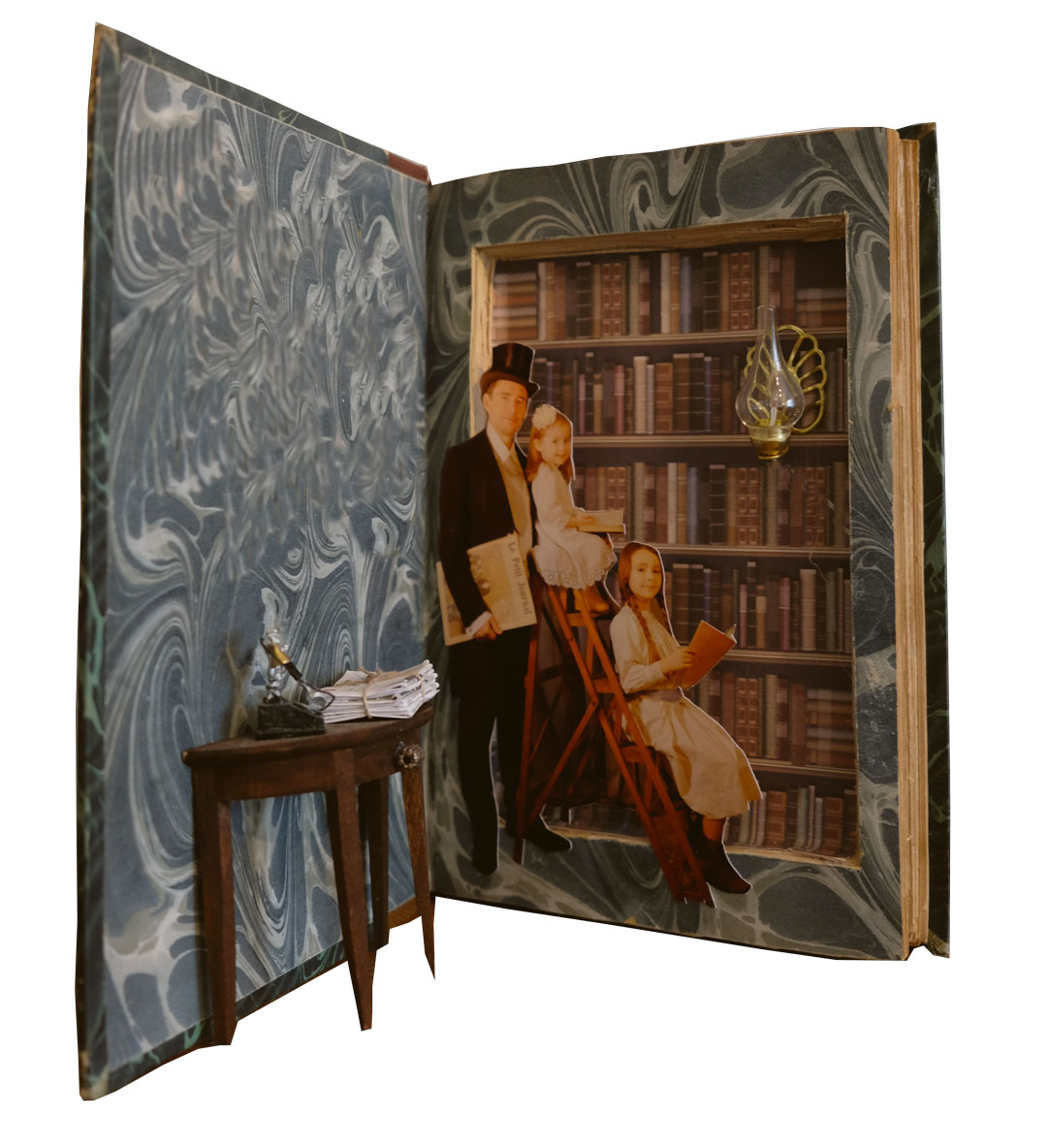 Little book
Your personalised photo frame in an antique book to pose!
Ex. photo: book – h20xl15cm – "news" atmosphere including table, telephone, newspapers and wall light.
HANDMADE AND TAILOR-MADE FRAMING
To begin with, you do your 1900 portrait with Mademoiselle Louison. If you already have a portrait in your own photo album that you love, and would like to have it framed, you can send it in a digital HD version.
Then Mlle Louison prints your picture on glossy photo paper and displays it in the personalised photo frame of your choice – an antique book or a square display case in painted wood.
The 3D effect is emphasised by the four miniature objects selected by Mlle Louison from shops specialising in materials for miniature shop windows. Small objects symbolise the world you imagine to embellish your photo portrait.
Atmosphere of seaside, lounge, bar, children's games, dance, sewing workshop… everything is possible and made with patience and love by Mademoiselle Louison.
All the possibilities to offer yourself or others in the online shop!
If you need any further information, please do not hesitate to contact Mademoiselle Louison: contact@mllelouison.com or 06.38.99.46.84.