Without the use of period make-up or hair, the magic of front clothes and vintage accessories makes for a stunning Before and After photo. Let's dive into the smart change in "Belle Époque" mode from a Parisian flat.
A façade story… or almost
Your photo shooting experience begins as soon as I meet you in a well-known Parisian street near the Jardin du Luxembourg. First facade, first looks, first exchanges: your adventure can begin. Together we climb the few steps that separate us from my personal nest, an alcove in my "home" studio.
Your surprise is total when you discover the place. A retro space in the middle of a "moderno" life: you are not dreaming. Welcome to Mademoiselle Louison, the retro casual photo shoot experience where your personal facade will be let down. A story of facade… or almost, because my vintage clothes dress you at 360°, with a few exceptions. According to your desires and my inspirations, I want to make you twirl in all directions. For there were leaps, wild leaning kisses, Tango tilts and fan tosses in the studio!
Even if the "Belle Époque" portraitsseem to be mostly frozen, I love movement and I always find a way to make your façade vibrate. Because I always have in mind our Before/After photo, the one that traces our mixed energies and personalities. There is no recipe for a good retro photo shoot. I follow my instincts and let you open the shutters on your front.
His discovery of the retro Before/After
I always take great care to dress you. I'll leave you time to look at the "Mademoiselle Louison" wardrobe. Enjoy your experience. Little by little, you slip into this other time that is the Belle Époque. Gradually, you let go of your present-day reflexes. The hips are rounded with the large skirts of Paris in 1900.
The lace of yesteryear always reminds you of childhood moments with your ancestors. You tell me your family stories. I enjoy listening to you tell me how you found or recovered your great grandfather's pocket watch or your great great grandfather's top hat. A delight of anecdotes. Every antique I present to you is greeted with admiration. I am touched. You really bring the retro photo studio to life. The 1900's outfits and accessories are brought to life by you.
We gently adjust every element of your outfit, we carefully select every hat, cane, parasol and finery from the past. If you are accompanied, I try to hide your transformation from your loved ones. This is quite difficult because the impatience is great. Everyone has their moment before going on stage as a duo, trio or family. It's great that everyone experiences the discovery of a retro Before/After photo. The mirror in the living room is waiting for you. A few more steps and your early 20th century reflection appears. The astonishment is always there. Even if your family members have given you some hints with Translated with www.DeepL.com/Translator (free version) You are always surprised and amazed by the "Oh!"and "Mummy, I've never seen you like this". And above all, you love yourself in 1900s clothing! A successful bet for Mademoiselle Louison.
The before and after photo shoot that makes you grow
Posing: a vast subject! I am far from the strict positions of the Belle Époque. However, I'm not going to let you slump into my Thonet chair or my Louis XV bench. The atmosphere will always be relaxed, we'll sing, we'll even dance sometimes, but we'll keep our eyes sharp and our bearing elegant. Like a military whisper, we all tend to lift our chins to take the high ground. This does not make us grow. The gaze disappears under an upturned face. The gaze is oblique. And I look for the sparkle of your uniqueness. So we take up this imaginary thread above our heads. We hang him up to relieve ourselves and put his straight, frank and determined gaze back in place. And our shoulders! Constantly upright and tense, they seem to be in perpetual questioning mode about life. They are surprised. They question themselves. They often block us. So we breathe. We pose them in the moment of the photo shoot that makes you grow up. I say think about your Before/After picture between now and 1900. You let go and focus on your experience of your retro 'Belle Epoque' portrait. You trust me and we can go together in your finest attitudes.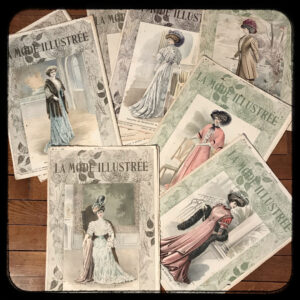 You gain inches in seconds. It's like an instant high-protein diet! You take off in your staging. You take the height of your splendour in vintage clothes. And if you add one of my biggest hats, you'll reach for the stars! A special effect worthy of Georges Méliès: you are taller in a "Back to 1900″ photo portrait.
A Before/After photo, a trace of intense present moments
Since your first steps in my retro home photo studio, you've grown up for sure! You have decided to experience an unusual activity in an intimate setting. You took the plunge and posed for an unknown photographer. You challenged yourself by choosing a photo shoot in retro outfits, outfits that do not allow us to have our usual movements.
You knew how to trust me and you dared to do different poses. We shared intense moments together in the present while moving into another time. With my retro photo studio Miss Louison, you will experience a Before/After photo shoot like no other!
Let's stay inspired and cheerful. Time is ephemeral.
FEEL LIKE A COSTUMED PHOTO ACTIVITY?

Mademoiselle Louison invites you into her private studio in the heart of Paris and dresses you up with vintage outfits and accessories from the Belle Époque.
Dressed as in 1900, you will experience the portraitsof yesteryear with serious and amusing stagings.
A personalised photo souvenir to make on your own, in a group, as a duo or as a family.