The Pink October operation has started and of course I'm trying again to reveal some "tits" without being censored by social networks. It's hard to do an engaged photo shoot on nipples when an areola is more quickly masked than a cheap sextoy. Never mind, I'll try again and bypass the robot dingoes!
Trying to show off without being censored
Every year it's the same thing, I see mind-blowing nude or very naked photos and I'm delighted. To be honest I am more attracted to photographic art that revolves around bandaging, the play of light and shadow, or this research into the naked body in all its forms, ages and postures. I'm much less fond of all the personal accounts of young women/ladies whose formatted aesthetic unfortunately seems to take over the visual aesthetic. I feel like I'm getting lost in this display of self-satisfied navel-gazing. I realise that I am partly in error of judgement, in any case I am not their target for sure!
Whatever the nature of all these pictures, they are unfortunately very often censored. And the rule is that you have to hide your tits! In the name of an infantilizing protection of intimacy, areolas and private parts are therefore always discreetly hidden by a line, a graphic pirouette, a sticker or lingerie. It bothers me. It annoys me, I admit. So I try the photo of the bare female torso, trying to hide in my own way that breast which frightens the Saints. I can't ask that of a model or a client, so I take the plunge. I question my own modesty. I want to support the cause with my own body. The self-portrait session of the engaged photo shoot is launched!
I try the breast in overexposed pink light whose areola will thus be attenuated: immediate censure from Instagram engines. I repeat with a shot of my bulging pair hidden by a vintage feathered fan and a vintage effect with lots of grain: censored! You can still make out a few micro-millimetres of this areola which is definitely scaring the paranoid robots. I don't let go of my goal. I take another shot with one breast hidden by my hand, the other by my old bellows camera: censorship! I pester and resign for the so-called daring shoot. I create a stylized drawing with two curves and two points: Bingo! Post accepted. I am amazed.
The engaged photo shoot is healthy for your breasts
New year, new test. Pink October 2021 here I come! I am less categorical. I especially want to promote this wonderful initiative led by the Pink Ribbon Association. So I take my shots again and mask Miss Areola, so dangerous to the eye that it is forbidden, with the identifiable pink ribbon of the movement. Posts are not removed. This is the main thing. Shooting is considered healthy enough for your breasts. Because it is important to spread the message of awareness campaigns at all costs.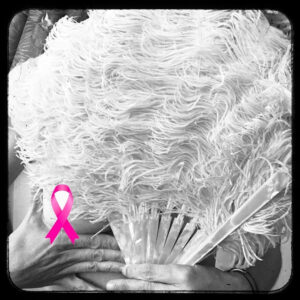 Get a feel for it, get a mammogram, get a check-up: avoid getting it too late at all costs. I am not the last person to dislike the examination more than necessary, but today, after finishing these few lines, I am making an appointment for my second mammogram. The challenge of bare posts, yes, but don't forget the essential of this approach: taking care of your deliciously rounded forms.
An engaged photo shoot in the making
I have always been reluctant to show naked parts, on the one hand because it is always very delicate to explore one's nudity, on the other hand because the limit with the raunchy is tenuous. The Mademoiselle Louison photo studio is still young and the atypical retro portrait was the main quest in my promotional photos. I'm not into charm shots. My approach is to create elegant retro portraits for the whole family. Of course, if a client would like to be photographed with the "Belle Époque" nightwear, I have it in my vintage wardrobe.
Furthermore, in my desire to regularly defend feminist values, I decided to find so-called "senior" models to be among the photographers who show ageing nudity. The shapes of time are beautiful. A scantily clad elderly person is sublimated. It is never rude. It is touching. A person entrusts you with their cleavage, their past freshness. I am always moved. I know that this is the beginning of a process in the making. An engaged photo shoot in my own way. This is another facet of the studio that I hadn't anticipated and which became apparent with our meetings. Thank you.
A touch for your necklines
I grew up with a father who was into film photography, setting up his temporary developing lab in the laundry room. I loved the smell of the developer and seeing the pictures hanging on the clothesline. I felt like I was in a private detective's room. I especially enjoyed rummaging through the hidden albums. I discovered naked shots, never crude. And my walk did not end there! The toilets in the house were filled with magazines on photography techniques. Inevitably, the review was done by men, so there were a lot of photos of naked women to explain the shooting, the lighting, etc. I digress because my feminist streak is getting the better of me.
In any case, I immediately liked the nude. More exactly, I like symmetry, architectural perspectives, the arrangement of beautiful lines, the balance in the photo of all the straight or curved elements. In fact, the nude allows for some very interesting realisations. So always with great respect, I know I am trying to highlight your bare skin. I realise in bits and pieces how I sometimes unconsciously move forward in a desire to carry out a committed photo shooting activity in parallel with your photos. I try to show in my own way a few stripped down examples with models of all ages. My vision is evolving. But yes, I might as well admit it, I have a crush on your necklines!
FEEL LIKE A COSTUMED PHOTO ACTIVITY?

Mademoiselle Louison invites you into her private studio in the heart of Paris and dresses you up with vintage outfits and accessories from the Belle Époque.
Dressed as in 1900, you will experience the portraitsof yesteryear with serious and amusing stagings.
A personalised photo souvenir to make on your own, in a group, as a duo or as a family.