Following your wishes has been my motto since the beginning of my photo studio. And for some, there is sometimes that "trigger" moment of daring to take a few more secret shots because lace makes you want to reveal yourself. "Souvenirs from Paris" by Mademoiselle Louison offers intimate photos in retro mode.
Lace underwear
Mademoiselle Louison's wardrobe has a few pieces of lace lingerie to suggest some underwear under a short skirt or a plunging neckline. No corset in the studio… for the moment anyway!
In the Belle Époque, women's lines were more than artificially curved and they followed the curves of Art Nouveau. The masterpieces of the underwear are the undershirt and the lingerie trousers. The two pieces are very often made of cotton, linen or silk, embroidered and very often decorated with lace. Over the shirt, the corset that bulges the chest, slims the waist and arches the back. The image of women is still stuck in a straitjacket! And despite the appearance of the bra at the 1900 Universal Exhibition, the corset continued to be worn. Source: The 19th century lingerie – 1890 to 1914
A body shirt, a camisole or a pair of lingerie trousers are all you need for an elegant, retro intimate photo.
Lace is an ornament that allows for soft, feminine detail shots.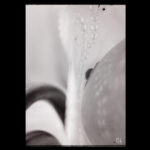 Votre photo intime « rétro douceur »
The lingerie trousers come down to the knees, tightened at the waist by a lace. It allows you to take dress-up souvenir shots with the elegant detail of a simple raised skirt.
This simple suggestion invites some of my 'model' clients to take the nude adventure further.
More than just a calf, they decide to bring more secret parts of their anatomy to light. The retro intimate photo has the degree of nudity you want it to have. A shoulder, a breast, a back, a hip… each choice is personal, retro is always a gateway to dare to experience a moment out of time.
It is your will and your audacity which make the moments of poses all in softness and good mood.
Retro photography therapy
Accepting one's image without a filter and maintaining self-esteem over time and through life's ups and downs is a daily challenge. We are overwhelmed by the visual, we are exhausted by comparing ourselves to it, we are sometimes sickened by any cliché where we might be represented.
Retro-style photo shoots have that little taste of Photo Therapy or Photography Therapy. I don't know you and I have this neutral and benevolent look of seeing you for the first time.
I look for your best profiles, I show you angles that you never dared in contemporary fashion.
Accessories and outfits help us to bring out some of the forgotten aspects of your physiognomy. Hands, nose, ankle, back, your hips…. the retro intimate photo sometimes touches more on the secrets of your personalities than on the hidden parts of your body.
Retro intimate photo upside down
No matter what your personality is, I always feel that you leave the Mademoiselle Louison Retro Photo "Séance souvenirs" upside down.
As a soloist, you dare to do anything. As a duo, you discover new character traits, forgotten connivances awakened by your Belle Époque characters. The age and gender differences are only a support to reveal the old clothes and accessories. The historical re-enactment scene plays with your habits and energizes your will.
I always try to underline the sincere relationship that brought you to share this common photo activity in Paris. For some, you have travelled miles! For others, it was a headache to find a date during the week to give yourself a moment of relaxation and well-being.
Whatever your "group" configuration, I touch on the intimacy of relationships because you are all novices and on the same pedestal in my studio. You live this first time of the retro photo experience in a private Parisian flat together, and your favourite retro photo will thus have the particularity of being forever your intimate retro photo in Belle Époque mode.
Don't hesitate any longer and come and treat yourself to photographic memories of time travel "back to 1900". I am waiting for you!
FEEL LIKE A COSTUMED PHOTO ACTIVITY?

Mademoiselle Louison invites you into her private studio in the heart of Paris and dresses you up with vintage outfits and accessories from the Belle Époque.
Dressed as in 1900, you will experience the portraitsof yesteryear with serious and amusing stagings.
A personalised photo souvenir to make on your own, in a group, as a duo or as a family.