When I go on a trip through the archives and the web, I am always in awe of every photo of a woman from the Belle Époque. Your "Lady 1900" photo has style, elegance and attitudes that arouse curiosity about her life as a socialite, a life of pomp and circumstance with highly regulated customs.
Being in Spring all year round
When I started collecting pieces to create different Belle Époque outfits, I went for fairly neutral bodice and skirt sets, white or black, that I could adapt to all body types. I took care to have a possibility for each person, woman as well as man, and I thought from 34 to 52!
With a few tricks and accessories, I created the Mademoiselle Louison wardrobe for the four seasons. By the way, my favourite season is Spring, the season of flowering, renewal and life again.
I always want to see you blossom in those fabrics and feathers that evoke a young girl's first outing into the big world. Feathers have the same effect on you. My 1900 hat with its rare metal structure is impressive to wear. I sometimes dare to prick it in your hair if it allows it. The look it creates works every time! You grow taller, you puff out your chest, you breathe in this Spring made in the studio with my fabrics of yesteryear. A photo of a woman in retro: yes; but as a Lady 1900 who sublimates the Spring: even better!
I am the spectator of your fiery looks, your toothy smiles and your sparkling eyes! I like to instil in the women of my studio nest the will to assume their own identity. I encourage you to play in front of my camera with the ease of happiness, to let go and finally dare to use the art of playing with yourself.
Taking a woman's portrait in Lady 1900 mode
As I often say, I offer the experience of making photo portraits in old-fashioned costumes and accessories without trying to reproduce exactly the very frozen and expressionless attitudes of the time.
I am completely willing to play with the fashion of the Belle Époque and to offer you some very free and sometimes offbeat compositions. We need to find the ease of your modern self, and then gradually bring it back into the game of the old 1900s person.
A Mademoiselle Louison "Souvenirs" session for adultsis a made-to-measure curiosity cabinet. You are always looking for a historical immersion activity with memorable pictures. This is the moment when you fall back into your childhood trunk of disguises. There is no need to rush to the most popular character, the wardrobe is there just for you, just for you.
For the ladies, the "women's" photo portrait in Lady 1900 mode has that slight taste of shopping at the Bon Marché 1900. I'm going to let you discover little by little my selection of hats, bags and accessories. Your eyes will sparkle at this range of finds for retro portraits in your image.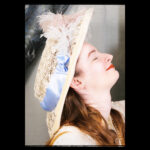 The icing on the cake is that your "Back to 1900" is done without wearing a corset and makes you forget your waist complexes. You are always coming up with new ideas to have fun with this old-fashioned yourself.
The singular encounter at each session
Our model/photographer team often gets caught up in time. We fall into the spiral of compositions. We want to capture every moment of your experience. I get caught up in each of your personalities. Sometimes I am in the presence of people who are used to booking photoshootings, themed or not. So I'm learning too and it's very rewarding.
My session has the originality of being retro, in Belle Époque mode, in authentic mismatched outfits, and at home, therefore in a studio "like at home"where the session becomes a curiosity cabinet. This is the black box of your photo of a woman slipping into the fitting room of her Lady 1900.
When you are already used to the pose, the sequences are faster. You even have some compositions in mind. And when you have the kind of madness that I have to try completely unexpected postures, we can go very far. I love it!
Choose your retro women's photo session "Lady 1900
Discovering my world and then trying the adventure of a retro session is most often done through a gift from a loved one. When this is your approach, I advise you to listen to your instincts or to select the experience that gives you the most apprehension. This is how I function in life. I always go where I have fears. My instinct doesn't say no, my instinct leads me towards choices of experiences that touch on my shyness or non-legitimacy. So I always choose to go where my heart beats strong. I challenge my fears and anxieties. And in conclusion, I give myself moments of intense flavor every time!
So my advice is to choose the session that gets you excited and makes you think at first that you won't make it. This is the one that will reveal your best shots. The studio is a place of good vibes and life changes, so go for it! I have made it my business to spread your wings with the help of the charm of retro outfits and big hats from the Belle Époque. Mademoiselle Louison is a story about a photo, a woman, a lady and the beginning of the 1900s that fascinates us so much.
FEEL LIKE A COSTUMED PHOTO ACTIVITY?

Mademoiselle Louison invites you into her private studio in the heart of Paris and dresses you up with vintage outfits and accessories from the Belle Époque.
Dressed as in 1900, you will experience the portraitsof yesteryear with serious and amusing stagings.
A personalised photo souvenir to make on your own, in a group, as a duo or as a family.