Tailor-made gifts have been in vogue for a long time. Clothes embroidered with initials or first names, perfume composed according to your favourite scents; all objects take on the tone of a personalised gift. A vintage studio experience joins the offer with a tailor-made photo session in retro mode.
Seek originality without going overboard
Long before it became fashionable, I always tried to give gifts that were as close as possible to the person being celebrated. A calendar of activities to do with their list of best friends, restoration of a cherished piece of furniture, a visit to a city on a theme chosen by the person concerned, expressing and reliving their Proust's madeleine: there is always a nugget to be found in the desires of your loved ones. And that without excess. Never.
Finally, "giving pleasure" often lies in a very simple attention. The gift that matches the character. The gift that takes the time to make room for the person we want to cherish. To me, the gift of time is one of the most precious gifts. It is a good that cannot be bought. It's an enchanting interlude in agendas that are unfortunately too booked up. I like the gift that is lived and that will remain forever in our common memories. With a made-to-measure Mlle Louison photo session, you are in a combo gift mixing travel/activity/experience/personalised souvenir. It is a real immersive bubble for your loved one. A "live your life like in 1900" secretly nestled in a Parisian flat.
The more I listen to the desires around me, the more I understand that, despite the mind-boggling range of bespoke goods available, we just need a real personal break to take time with ourselves. A simple and effective way to feel alive. A "I'll take care of your life for …" gift voucher without exchange. You take care of everything for your friend for as long as you want to relieve her/him. This gift deserves absolute trust. Another topic.
A tailor-made photo session to share
A few weeks before my two years in the retro studio, I can say that most of my clients come to enjoy some time together with their loved ones. They come to be pampered together. And for those who have a birthday present, a birth gift or a For example, during a pre-wedding event, selfies are taken during the session to bring them to life in real time for those who had the crazy idea.
I am delighted to realise that the Mlle Louison session is a bespoke photo shoot to share. No two sessions are alike. I am extremely vigilant to make you live a unique moment and adjusted to your so singular profiles.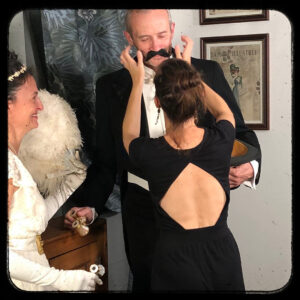 Naturally, I am a woman in the present. So I match this way of life to my performances. I never anticipate your photo sessions. My research into composition and staging is constant. It's only when you walk through my door that I know what's going to happen to you on stage.
The photo surprise à la carte
Sharing and exchanging: that's the key. An order for a session is very often preceded by exchanges to refine the date, the surprise and the gift. I like to find the right accessory for your event. It's not always easy so I improvise and always try to find a new use for an accessory I already have. It's haute couture for your retro photos of today's profiles. Your tailor-made photo shoot should fit all your dimensions. Respect your limits. Give you time to realise what is going to happen.
I don't do hair. I don't do make-up. This is not my job. So we lift your hair by feel, we style those unruly morning strands and still keep that beautiful naturalness that is your human nature. They had their hair pulled back in a bun at the time, so let's go with this elegant hairstyle that gives us full freedom of movement today. Lots, little or no make-up, you come as you are. I don't force anything. My proposal is not a makeover for over-edited photos. I'm all about going natural. In any case, I invite you to be the one you like. I just bring a touch of retroBelle Époque I am not going to change anything. I will adapt. I would just like to suggest a subtle touch of red or pink lipstick to create an interesting contrast. Just like in a restaurant, I offer you an à la carte menu and you choose your favourite dishes. Bon appétit !
Hand in hand for your customised photo shoot
I dress and accessorize you by listening to your desires and your heart of hairpiece lover. We play together to go back in time. "Back to 1900" is our goal. The wardrobe is the same for everyone, but there is no single identical combination.
We are on a journey where every step is yours. You each wear the hat in your own way. You are moved by very different objects. It's always unsettling to see me grab a necklace or brooch that fits you. You each have your own class in our "Belle Époque" train. You are a passenger in a tailor-made photo session where we trace the route hand in hand, partners of the imagination.
FEEL LIKE A COSTUMED PHOTO ACTIVITY?

Mademoiselle Louison invites you into her private studio in the heart of Paris and dresses you up with vintage outfits and accessories from the Belle Époque.
Dressed as in 1900, you will experience the portraitsof yesteryear with serious and amusing stagings.
A personalised photo souvenir to make on your own, in a group, as a duo or as a family.