I walk around and discover with astonishment that the streets are already dressed up for Christmas! "Christmas is coming" already seems to be in the air. As you know, I prefer to advocate gifts that don't rely on the consumption of new, quickly discarded and replaced goods, so I've created a fun activity that can be experienced: the retro Christmas photo shoot gift card. The offbeat idea for your upcoming Christmas trees. The activity that your loved ones can then programme at any time for a year.
The activity that makes smiles bloom
As a child, I loved to dream about the mountain of presents under the giant tree on Christmas Eve. When we woke up, the pleasure was to discover the delicate wrappings, the carefully chosen bows, the shiny ribbons and above all, the labels carefully written by Santa's elves. Of course, I checked that the reindeer master had eaten his biscuits and his glass of liqueur: the sign of the real passage through the chimney!
I always found it strange that adults had little gifts, strange cards to go to a show or to experience something new. Very personalised gifts as if Santa knew them very closely. These activities offered them wide smiles. A bouquet of teeth that validated the sentimental value of the gift. So my childish eyes were satisfied with the work of Santa and his tribe. I thought he was a great man and so ingenious.
So nowadays, when I prepare a gift card for a retro photo shoot with me, I take great care to always ask for a nice accompanying text. If the card is "physical", I refine it so that it is that mysterious and unexpected envelope that surprises and then makes you smile.
The "photo shoot" gift card for everyone
Photo shoots are most often reserved for special occasions such as births, weddings or pregnancies. The activity now attracts many people who are comfortable with their image and are looking for a variety of shots to share. At certain turning points, parents also take the time to take a family portrait as a gift to grandparents or to bring the clan together for a fun and unusual activity.
With the retro photo studio Mademoiselle Louison, you are at the crossroads of all this. You are looking for different portraits to broadcast or you are looking for an experience to do alone or in a group. You want to go back to childhood by dressing up. You are thinking of a personalised gift that will have the best effect during the family reunion, you want to surprise! You want to cherish the newborn and its parents. In short, you give yourself and the gift of a retro photo shoot unexpected in the Christmas lists.
There are two types of sessions at Mademoiselle Louison: the "Souvenir" sessions and the "Rétro" sessions.
The longest, the "Souvenirs", last two/three hours and are available from 0 to 120 years. This is the ultra complete retro photo shoot gift where we take the time to prepare and take pictures. It is as much a session for adults to do on their own or with friends, that a moment to experience the birth of baby, to enjoy as a familyfor a change from the usual outings or to give to your children to have some fun. portraits of different kidsto send to grandparents. And let's not forget our elders, this is also a great gift for them. They have already had almost everything and are enjoying every moment. A retro photo session reminiscent of the old days is a charming and always moving "Back to the past" for them. And above all, it is not often the activity that they have had the opportunity to experience since their marriage!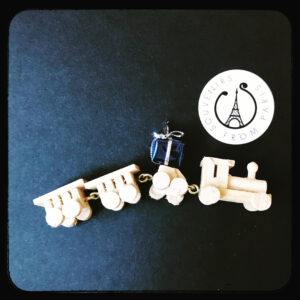 With the shorter one-hour sessions, the so-called "Retro" sessions, you are more looking for photos with accessories, without the total look of retro outfits. You often have a business need. You need to take portrait photos to style your website. You also often need to have a striking, signed profile picture on your social networks or books. So you are in your outfits and I add my retro touch with selected accessories.
The personalised gift that makes you travel without moving
Whether you are young or old, professional or personal, the retro photo shoot gift with Mademoiselle Louison is a journey. You are not in a museum or an amusement park, you are not in another city or another country: you have in your hand the ticket for a journey through time.
It's a stone's throw from your home, it's in Paris, it's in France, it's today, and yet all your senses are far away. Your sight is drawn to the antique wardrobe as soon as you enter my door, your smell smells the lingering scent of vintage, your hearing perceives the world of the Parisian family nest, your touch is drawn to the feathers, your taste is in search of fresh water as it is very hot under the fabrics of the Belle Époque! It is an immersive visit far from all your reference points. It's a cabinet of curiosity of which you are the only guest.
1 "photo shoot" gift now, 1000 memories forever
The preparation of Christmas is getting more and more advanced in time. The preparations always have that air of rediscovered common warmth. We all want to please and pamper our young and old. Fireplaces burning, hot chocolates and cosy plaids: we want comfort, reassurance and warmth for all. Christmas is about wrapping our hearts in children's happiness and experiencing with a smile the battle of torn, glittery and scattered papers. I always open my presents last to enjoy the happy faces of my loved ones as they discover their gifts. Which personalised gift will hit the spot? What surprise is hidden behind the smallest of packages?
Whatever your evening, you will capture the moments with your cameras. The same applies to the Mademoiselle Louison sessions. These are 1,000 memories of fittings, posing for wide hats, laughing in front of the mirror, happily cracking up in front of the camera and marvelling at each other. You are offering much more than a retro "photo shoot" gift, you are offering a session with a thousand joyful memories, a magical session to make your timeless "Merry Christmas" last.
FEEL LIKE A COSTUMED PHOTO ACTIVITY?

Mademoiselle Louison invites you into her private studio in the heart of Paris and dresses you up with vintage outfits and accessories from the Belle Époque.
Dressed as in 1900, you will experience the portraitsof yesteryear with serious and amusing stagings.
A personalised photo souvenir to make on your own, in a group, as a duo or as a family.