Regularly, I do this little before/after shootwith an extract of your retro photos. It's a way of seeing the work I've done, a way of making sure I stay on track with my custom compositions. I always try to be in tune with the Belle Époque. As I've grown in confidence, I've allowed myself to take some liberties with that time before and I like that too. I've always hated cages so my project had to take off!
Sharing the magic of period costume
In a session, there is our meeting, our discussion, your dressing, your discovery in 1900, the gruelling photo shoot, the refreshing water shots, your return in your own trainers and finally, that before/after shot in retro photos that sums it all up. I try to make you live this experience like a whirlwind in time. We go around the outfits together, you gradually get into your character and I accompany you in this magic of putting on period costumes.
The pre-session chat is very important. It allows you to let go. It allows you to verify that I am the friendly, welcoming person I sold you. We get to know each other. With some questions, I approach the singularities that are yours and what you came to the studio Mademoiselle Louison.
If it is a giftyou have received, we need to take care to create the right environment for you because the surprise is often confusing. On the one hand you are invited to a photo shoot, on the other hand it will be in retro outfits, and finally the studio is at the inhabitant's home. A lot of new and unusual information!
Despite all these parameters, the magic of the period costume still arouses your curiosity. Combined with my love of people, the makeover becomes a moment of transformation that is enjoyable for you. We take our time. The dresses, skirts, blouses, trousers and hats have been there for almost 120 years, they can wait a few more moments to be put forward!
Starting from the front and moving on to the back in retro photos
Finally, I realise that we reverse time during the Mademoiselle Louison sessions. The before is the now, the after is in 1900. You remain clothed and the path to your "you" "Back to 1900" has successive layers of old fabrics. We start in front of the wardrobe, take a few turns assigning you a few accessories, and arrive at your reflection in the mirror a few pegs down. The reflection in the mirror that surprises you quickly becomes your new skin of the moment.
Your face is to be filmed: all the emotions are there! I'll let you take the time to discover it in Belle Époque costumes. After a few rounds of admiration, I invite you into the decor in retro style.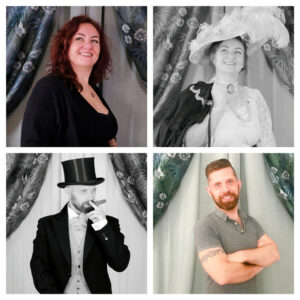 The session can then begin… and there: it is a very personal and tailor-made moment to experience.
We move slowly towards various compositions in order to always put you at ease. The before and after in retro photos will be the final stage of our trip.
Trusting in some liberties with the past
I keep telling myself this, but it's amazing how your attitudes change in Belle Époque toilets! The "back to the past" transports you to new or assumed expressions. It's your choice and it's your freedom. At the beginning of my project, I wanted to be as close as possible to the expressions of the time. From now on, the most important thing is to reveal glittering personalities in the middle of Paris.
People are my priority. As the years go by, I really realise how little we are… I add joy to my days by offering you a photo activity with a thousand smiles. Every day I build an experience that will put love in your albums. I have unlimited pleasure in imagining your compositions to make you stand out.
Practice has given confidence to my ideas. The breaks are sometimes anachronistic with my favourite period but it remains very light and doesn't spoil your pleasure to have pictures of the old style. Before and after… my lens has the malicious pleasure of making a mix in retro photos. My leitmotiv: let's trust each other to value what you are today with your past experiences.
Before and after or the amazing effect of photos with retro effects
When you order a session with Mademoiselle Louison, you often come looking for the exhilarating effect of seeing yourself in costume, dressed up in outfits you can't find on your own. You want to feel like you're in the fantasy world of the cinema or the theatre.
I think we all played roles as children. Our games were full of characters with a thousand faces. We bring them to life timidly in our thoughts or we externalise them with lively improvisations. I enjoy seeing my daughters take on characters with very pronounced features. They also have their before and after with sometimes just a bridge of gestures between their two states.
With a Mademoiselle Louison session your before and after is certainly more confusing as the retro photos have the effect of staging. The experience I offer you in the middle of Paris is a combination of "Pretty Woman" fittings and poses on the Cannes red carpet.
Come and experience this amazing moment of seeing yourself in this 1900s character that is your old self. Make your retro star, it's fun!
FEEL LIKE A COSTUMED PHOTO ACTIVITY?

Mademoiselle Louison invites you into her private studio in the heart of Paris and dresses you up with vintage outfits and accessories from the Belle Époque.
Dressed as in 1900, you will experience the portraitsof yesteryear with serious and amusing stagings.
A personalised photo souvenir to make on your own, in a group, as a duo or as a family.