I don't always keep my communication agenda in line with the calendar of customary anniversaries. I have a reluctance to follow codes… On the other hand, when love is celebrated, even if it's a bit of a forced date, I'm the first to promote feelings in all their forms because it's them that will save us all! Come and make a retro photo for a Valentine's Day all year round, that's the proposal extended to all the dates of the calendar that I want to motivate.
"Shooting" love all year round
I see love come and go in my studio at every session. Loving couple darling/daughter, mother/daughter, aunt/niece, mother/baby, brother/sister: I have seen it all. I am a nest of multi-love and I am proud of it.
It is this feeling for others that also made me create the studio. I take great pleasure in giving service to others and I have reoriented myself towards an activity that will give service to strangers.
Le défi est donc de turn a nice photo service moment into an immersive retro experience full of beautiful feelings. I aspire to sublimate you as much in your appearance as in your personality. I find that we are all beautiful people who sometimes wait for the right shower to sprout again.
In the living room, the Mademoiselle Louison studio, there are only beautiful plants and seeds to come. The Belle Epoque wardrobe is that magical package that allows for a timeless and charming retro photo for Valentine's Day.
The "retro photo" gift for your Valentine
Finding the right gift for February 14th is sometimes (often) a nightmare. I find it hard to understand how anyone can put this pressure on themselves. Personally, I don't celebrate Valentine's Day. As I like to create personalised giftsfor my loved ones, I'm more in favour of making 14 small, very touching keepsake gifts representing the couple's most memorable moments.
The range of thoughtful gift-giving is endless, yet this celebration of love often ends with the quick bouquet bought just before going home.
I think florists could write a whole series of books just remembering all the Valentine's Day anecdotes! And if you add to the petal experts the chefs of good food, I think you have an inexhaustible series of comical, sad or funny stories.
I hate restaurant rooms on Valentine's Day nights. I don't like the spas in big hotels on Valentine's Day either. I'm more interested in being a photojournalist than in settling down in those rows of couples stuck and leaning identically along the edges of those palace pools.
But since I don't like to judge and since life is fleeting, I think it's still important to celebrate love, whatever it is, and to choose a special day to be a little more thoughtful than usual. Everything can disappear, so let's love each moment and put ourselves down a few more times to celebrate it together.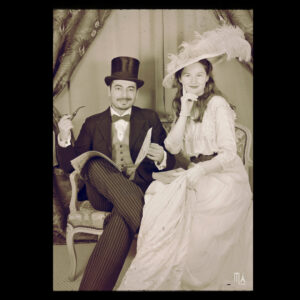 I will always enjoy being the "retro photo" giftfor a Valentine's Day and freeze in time the radiant faces of people who love each other.
Seizing the big love in retro style
We've all become the stars of our mini screens, so it's very easy to get snapshots of your loved one. You will be the best person to frame her with that charm that makes you melt. You will be able to capture it in the outfit and posture that you particularly like.
With Mademoiselle Louison's eye, I will show you your love from another angle. You will (re)discover the retro star in her/him. You'll even be amazed to see him/her reveal him/herself in a top hat for Mr. or a feathered hat for Mrs.
And if you do your retro "Valentine's Day" photo session as a couple, I will have that fresh look at your couple that will create a surprise in everyone's eyes. I am the bare-assed angel who shoots a new arrow between you with striking and atypical retro shots.
Will your love survive the retro Valentine's Day photo?
So yes, love is celebrated every day, for your loved one, for the poorest, for the nature that surrounds us, for our elders, for the most vulnerable… There will always be a thousand forms of love and a thousand ways to illustrate them in photography.
Do you want to spice things up a bit and dare a session in retro Belle Epoque clothes and accessories? Do you challenge yourself to let go with the other person in an environment you don't control? Be sure: your love will survive and be strengthened!
Because to experience a session with Mademoiselle Louison is to take a "pose" for two, to make the cinema of your relationship and to capture your YOU in DUO.
I wish to reveal explosive couples in the middle of Paris, any configuration imagined, using my staging and my retro wardrobe to favour the ease of happiness, the "let it go", and thus sublimate love thanks to the art of playing with oneself. So if you have no idea how to express your feelings, offer the retro photo for Valentine's Day… or for every event in your calendar.
FEEL LIKE A COSTUMED PHOTO ACTIVITY?

Mademoiselle Louison invites you into her private studio in the heart of Paris and dresses you up with vintage outfits and accessories from the Belle Époque.
Dressed as in 1900, you will experience the portraitsof yesteryear with serious and amusing stagings.
A personalised photo souvenir to make on your own, in a group, as a duo or as a family.