It's like an instant crush to take a retro photo of a baby. All this miniature body which is adorned with lace in all simplicity, girl as boy. All it takes is a feathered cap and an immaculate white dress to transport the chosen one into another time, a time of yesteryear where her candor remains intact.
We rub our… feet!
Blog Confidence, I've never liked feet and especially not my own! Little childhood complex and over the years I have learned to appreciate them and have become an absolute fan of my children's. And add to that the fact that I completely agree that "it's great to be loved! : the combo is a winner !
As a mother and photographer, I have been collecting pictures of my daughters' feet since their birth. Under all the seams, the ends take over the appearance of peas, berlingots, marbles to play with!
It is therefore quite natural that in a retro "baby" photo session I take portraits of the moving feet of the baby on stage.
How to capture the moment for a "retro baby picture
As a gesture of comfort, I rub my feet no matter where or when. so inevitably, when I make close-ups of those of the first born, I try to seize this tender moment when the baby reassures itself with this movement.
A retro baby picture to remind her that when we feel a love gap, the feet are there to anchor us, comfort us and connect us back to the assurance of existing.
Stroking one's feet to comfort oneself: a little mania or reflex that I try to photograph but not yet in the elders…
When I do this close-up break, it is often because the parents are busy taking a pacifier break, a feeding, a cuddle before continuing our session.
Because yes, the kids' retro memories can be savored very quickly. The time of the minis is counted.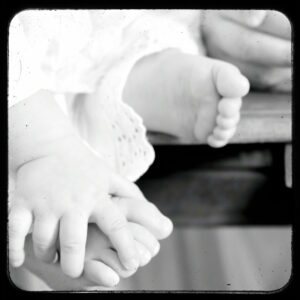 You have to know how to capture the magic moments because children want to play and the experience of retro photoshooting amuses them for a short time. The chicks are willing to act but at their own pace!
A team effort
Photographing children is a photographer-child team activity where the one who has the most ideas is under 18 years old. Chicks are true masters in poses, compositions, mimics and movements!
Always listen to them. Their freshness is an inexhaustible source of ideas for funny and offbeat productions. They intuitively have this natural gesture that makes their eyes shine. They don't cheat. They really live the experience of "back to 1900" as a real adventure offered by their grown-ups in the home of a lady who gives them free time.
Freedom to think, to move and to say: I wish to be a photographer revealing explosive kids in the middle of Paris. I open my homefor the expression of all ages and cherry on the cake: for this communion of all ages outside the appearances of the modern world. The journey is made in all directions and with all generations.
A unique photographic souvenir: your baby in retro
Offering a Mademoiselle Louison session to a child, accompanied or not, is to allow the children to realize a photoshooting activity that they will remember all their life. The portraits are as many new facets that will fill their photo albums.
As they grow up, they will have the story embroidered around that moment and perhaps they will try it again as the years go by. A timeline from the first retro baby picture!
Young children have been photographed from every angle since the advent of the fantastic mobile camera. I'm the first to get out my connected object to shoot the beloved minois.
For all that, the posed session, where time is taken to build a composition, keeps its charm of the serene and cocoon moment. Because you are in my home and the charm is unique. My home photo studio is soft and cuddly.
The place vibrates with a family life where balls express themselves and test the authorized accessories. There is no more beautiful energy I find than a shared place, a place that breaks the barrier of your place and my place. The retro is only in the photos, the modern spirit inhabits the studio and always honors the purity of your children with the greatest respect.
FEEL LIKE A COSTUMED PHOTO ACTIVITY?

Mademoiselle Louison invites you into her private studio in the heart of Paris and dresses you up with vintage outfits and accessories from the Belle Époque.
Dressed as in 1900, you will experience the portraitsof yesteryear with serious and amusing stagings.
A personalised photo souvenir to make on your own, in a group, as a duo or as a family.