In these times when the imagination is in great demand to escape, the Mademoiselle Louison studio invites you to travel right next door to your home, in the heart of the capital, to relive in authentic outfits the Paris 1900s of the Belle Époque.
Returning to a memorable Paris
Experiencing a "Back to 1900" photo shoot is an escape to the present through clothing. And your adventure begins as soon as you walk through the door of Mademoiselle Louison's house. You will discover jackets, jackets, jackets, skirts, laces, hats, canes, umbrellas… all found in expert stocks, seasoned to the rigorous accords of the elegance of the time.
Little by little, you move slowly into this other life of the Paris of the World Exhibition, of the fiacres, of the invitations to tea time for the more affluent, of the tensions of that time when corsets were unfortunately not the only pressures…. the historical re-enactment takes shape.
Mademoiselle Louison does not impose the corset and offers you the full freedom of the moment when we all like to relive that childhood time when we liked to dress up. But in the photographer's wardrobe, with a few exceptions, only vintage outfits from the beginning of the 20th century have taken their place. They still live, witnesses of this past history, strong to have passed the tests of time and events.
Paris 1900: Feel the atmosphere of a time under the roof
After putting on your "Paris 1900" finery, Mademoiselle Louison will invite you to settle down in her decor, to take your place on your stage whose sober atmosphere tries to recreate the mood of the capital. Belle Époque where wealthy families could indulge in pleasures and festivities. For it is true that these vintage photo portraits might seem austere, yet lightness and the wind of progress were in the air. The majestic hats are there to remind you of a grandeur and originality that is standard in this mythical period. Like feathers flying in the breeze, Mademoiselle Louison takes the liberty of staging light and funny scenes so that you can relive the beauty of the pageantry while feeling the joy of posing and playing your character from that other time in 1900. Smile is allowed and highly recommended.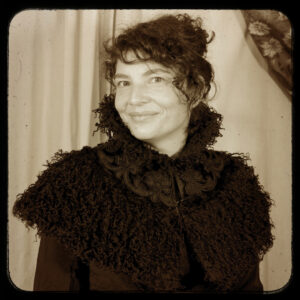 During this photo session, you will revisit this ancestor seen in family albums, these postcard characters found in attics or flea markets, professional actors or amateurs of the Lumière brothers' silent films. "Back to 1900" is on the bill for your historical re-enactment.
It is good to close your eyes and imagine the daily life of the time. The incessant noises of omnibuses, carriages, shouting, shouting… what a racket it must have been!
During your moment of retro photo portraits, you will be lulled by Mademoiselle Louison's advice. And above all, you will be motivated by the music you have chosen to give rhythm to this cultural activity linked to history, entertainment, laughter, exchange and letting go: a sublimated experience of a fantasised Paris 1900.
Travelling through the time of Paris 1900 in photos
Because it's not easy to take a break. So Mademoiselle Louison does everything to bring you into the attitudes that will be these comfortable binders between 1900 and 2021. You have to coax your new clothes and your sometimes cumbersome accessories, so that they become your friends during the clattering of the shooting photo. At first, you don't dare to move them, to touch them: you have an immense respect for these hundred-year-old accessories. You are afraid that you might crumple them, that you might damage them. You feel the fabric of your grandparents, both fragile and yet powerful to be always there to bear witness. Then Mademoiselle Louison puts you at ease: you have the right to bring them back to life, they have seen others and they must exist with you for this new birth. This is your armour to become the heroine and hero of your photo shoot. You are going to recompose your Belle Époque portraits together. You are partners. And the more minutes go by, the more you trust each other. You become an actress and actor of that moment you have given yourself. This is your moment of yesteryear, your session as an actress or stage actor who has the chance to relive large-scale historical re-enactments on a regular basis.
Your photos of Paris 1900
Mademoiselle Louison allows you this cosy stage cocoon where the warmth of the private place allows for all sorts of extravagance. Because experiencing a retro photo shoot for the first time is more than just a posed session, it's a test of the costumed session, you are both "observer" and "observed". "Observer" from this unlikely place in the heart of Paris where vintage has invaded a cosy home; and "observed" by a photographer who, like you, lives your retro photo shoot to the fullest. Each of the parties involved is responsible for ensuring that this ephemeral vintage moment takes shape, and that your Paris 1900 photo case is restored in a memorable way.
FEEL LIKE A COSTUMED PHOTO ACTIVITY?

Mademoiselle Louison invites you into her private studio in the heart of Paris and dresses you up with vintage outfits and accessories from the Belle Époque.
Dressed as in 1900, you will experience the portraitsof yesteryear with serious and amusing stagings.
A personalised photo souvenir to make on your own, in a group, as a duo or as a family.