We all have our own idea of "well-dressed". For some it's a simple shirt, for others the fantasy of a long evening dress. What they have in common is that they always try to dress differently from their everyday lives. In Belle Époque fashion, your look takes a double trip: a leap back in time and an exceptional and unusual outfit.
Experiencing the finery of the streets of Paris 1900
Getting ready in Belle Époque fashion literally means bringing finery to life, i.e. taking care to adorn oneself with a set of clothes, ornaments, jewellery and accessories to look great. Every detail counts. And harmony comes first.
Enriching the simplicity of a skirt and bodice, your belt buckle and pearl necklace add notes of understated elegance that will contribute to the result of a stunning sartorial reconstruction.
Because a photo session at the Mademoiselle Louison studio always begins with the discovery of a wardrobe carefully selected to be as close as possible to what was worn at the time. As you touch the quality fabrics and admire each authentic piece of this Belle Époque fashion, you can't wait to see yourself moving in such a refined look.
The Belle Époque fashion community
What is today a fantasy, often seen as an embellishment that we do not dare, is a convenience of the early 20th century. Indeed, going out without a hat in 1900 is out of the question! A simple little black wafer placed on the head, a round melon, a deep black felt: everyday life forces practical and easy-to-wear shapes. The extravagance of bird feathers, dizzying volumes and satin ribbons remains the prerogative of the ladies of high society. For each outfit has its own head companion!
Diving into the creations of the milliners of the Belle Époque is an addictive passion. What taste and style! It was the "couture" touch that was the signature of Belle Époque fashion. We've all dreamed of wearing these oversized chef's covers just once. But how could they stand it? Of course, the buns and hatpins ensured a calculated hold, but still: what a feat to go about your business with such sculptures! And Mademoiselle Louison allows you to experience such magic.
Your eyes always sparkle when it comes to choosing the one you love. They are all beautiful and it's not the size that makes you choose a particular model. You have felt the right tone and harmony of your outfit over the years, so you always opt for the one that will be the perfect finishing touch. The ideal partner to enhance your "you" in Belle Époque fashion. You have joined the hatted community and you are ready to twirl on the stage of the Mademoiselle Louison – L'Atelier 1900 studio.
Nothing difficult about being without a corset
Because Mademoiselle Louison wished to create a retro photo activity accessible to all, the corsets have jumped! Let's face it, the ordeal of the corset could not go hand in hand with a fun and cheerful photo activity. Being a lady in Belle Époque fashion: yes. To be belted without eyebrows to test the wasp waist: no. Let our waists breathe! And therein lies the studio's trick. Carefully opened with discreet braids, vintage skirts slip over trousers, dresses and daytime minis. The theatre costume designer who worked with Mademoiselle Louison has planned everything!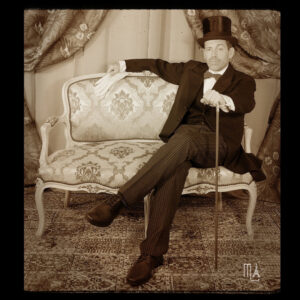 Forget about the size scale from XS to XXXXL: at the studio, everyone gets on board the "Paris 1900" train. It's a smooth retro first time. It is always a pleasure to dress up in Belle Époque fashion. The outfit is a feeling and a clever arrangement made by Mademoiselle Louison. The photographer-dresser knows how to find the accessories that will perfectly reproduce the elegant and bourgeois line of the time. His clothes will always fit your body type 2021. Taking shape in vintage is a journey that is only made stronger by the fact that we allow ourselves to admire ourselves.
A Belle Époque outfit to get away from the everyday
One thing is certain: we are all victims of the fashion of our time, more or less determined to embrace it or to snub it. Fashionable dress is a vast system where the way of dressing bends to the taste of a period in a given place. The fashion of the Belle Époque is recognizable among all. The mandatory jacket for men. The high skirt for women. Hats for everyone. The cane or the umbrella for maintenance. A style, a signature.
At every moment in history, fashion imposes itself and codes us. Individual taste is often undermined by a dictated collective fashion. Lovers of the offbeat take the vintage route or innovate on the road to the never seen before! Whatever the quest, the way we dress seeks a composition of colours and fabrics. In front of the mirror, we become textile architects, sometimes audacious, sometimes minimalist; one morning rigid and the other very relaxed. We all seek our uniqueness in our own way.
However, it is very rare to see our streets being walked by people in 1900 mode. The last top hat I came across was at a dedicated event or a hat wedding. One does not dare so easily in Belle Époque fashion. And yet, it is the stuff of fantasy. And that's the charm of the Mademoiselle Louison photo studio: to offer you the unique opportunity to dress in Belle Époque fashion and to keep retro photo portraits whose charm will always retain an unfashionable beauty.
FEEL LIKE A COSTUMED PHOTO ACTIVITY?

Mademoiselle Louison invites you into her private studio in the heart of Paris and dresses you up with vintage outfits and accessories from the Belle Époque.
Dressed as in 1900, you will experience the portraitsof yesteryear with serious and amusing stagings.
A personalised photo souvenir to make on your own, in a group, as a duo or as a family.