A short time ago, the Mademoiselle Louison studio was approached to take care of an animation around the Roaring Twenties. Surprised at first, then flattered and above all very curious, I looked into this very special decade that still sounds like a good Charleston swing to my ears.
Dynamic and spectacular Roaring Twenties
When I think "Roaring Twenties", I immediately travel to my memories of the film "The Great Gatsby" directed by Baz Luhrmann in 2013. Like many, I had the urge to throw the same lavish and crazy parties to wear Daisy's flashy and glittery outfits. Headbands, feathers, pearls, little bags, "Art Deco" earrings: I'm already looking for the perfect adornment for your future retro portraits! The challenge of fiction in my living room makes all my senses tingle.
I'm getting into the dynamics of these few fast-paced years, to find solutions to dress you all in these tubular lines so close to the body. The costumes in the film are spectacular and hard to find in vintage, but I know I'll find the tricks and easy ways to sway you into that elegance. The aim is always to do it in a few minutes, on your own clothes and with complete outfits of course! I don't want the quick fix of the Photo Booth with a few accessories. "Déjà vu". My wish is to really offer you, as I do with my authentic Belle Époque outfits, a jump "Back to Happy Twenties". Your portraits will surely be in chest shot to cut off the unshod feet, but never mind: you'll get your portraits! New challenge for Atelier 1900 – Mademoiselle Louison.
The breath of fresh air in the 1920s
And then, of course, fashion led me, as it always does, to the desire to know more about the condition of women over this short period. How their futures had evolved after their strong mobilisations during the Great War. I was lucky enough to come across a two-part documentary on the Arte channel, "Les années 20 ou la décennie des femmes". A wealth of information. I learn that the new woman of the Roaring Twenties is called a "garçonne", "camarade" or "flapper". It smells like emancipation. A desire to live independently! I love it.
After the terrible losses of the First World War, peace finally arrived. A breath of serenity accompanied by questions for all. The women have had to fend for themselves and now face the returns of the men scarred by the trenches. Everyone is looking for their place. Women have proved to themselves that they are autonomous and they finally have the idea that they can have a life other than that of wives or mothers. They too saw death with the Spanish flu and it left a deep impression on them.
Most men and women want to grab life now. The struggle is ever harder for women as their new aspirations frighten men whose patriarchal role as protectors is challenged. And the circles, institutions, associations, parties of "good morals" abound in their sense. What ! Do these people who are so driven by their emotions want to take control of their lives? What an idea! Go home, ladies! And yet, women are courageously fighting for their rights, their freedoms. Mainly in the US and Europe. They want to have their identity outside the family structure. Get some fresh air!
Get moving, get adventurous!
The translation of "Roaring Twenties" from the American term "Roaring Twenties" gives a good feel for the speed of the Roaring Twenties, the exaltation to live life to the fullest, to embrace the world and to be inspired by the new female role models that Hollywood cinema judiciously exploits. The heroines are city girls, adventurous and unattached.
The calves are uncovered! The haircuts are short. Make-up is no longer reserved only for women of a light nature. All city dwellers flock to the cinema to be entertained after dark years of fighting. And so the great film stars begin, including Clara Bow in 'It', a 1927 film based on Elinor Glyn's novel 'Coup de foudre'. I learn that the term "it girl" comes from there! All women want his style, his casualness and his ease. There is this wind of enjoyment and pleasure.
But unfortunately, women very often fall back into the arms of a man… There is still a whole conflict between the different possibilities for a woman. Finding your way is not so easy. For the most adventurous and wealthy, freedom has the exhilaration of sport, the automobile or aviation. They change air. They move… far! They do not challenge social mobility but mobility in the true sense.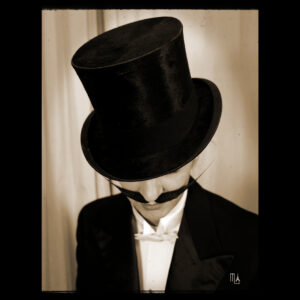 For example, the Arte documentary """Les années 20 ou la décennie des femmes », shows us images of the German Clärenore Stinnes, the first woman to circumnavigate the globe by car in 1927. But regardless of their social class, the women of the Roaring Twenties had the indestructible will to break out of their ancestral cages and shine in these "Golden Twenties".
The Roaring Twenties: art in all its forms
But let's go back to Paris, where I will take your portraits in the 1920s. My private photo studio is right next to La Rotonde and La Coupole, the meeting places of the artists of the time. For in the Roaring Twenties, Montparnasse, along with Montmartre, were the nuclei of a major cultural and artistic revival.
In my research, I came across a tasty short film, still on Arte, "Mademoiselle Kiki et les Montparnos" dating from 2013. I learn that in order to be accepted in the great hall of La Rotonde, you have to wear a hat. The restaurant welcomes all the artists of the moment. The boss serves them for free against canvases. Utrillo, Modigliani, Kiesling, Foujita, Man Ray and all the others… Kiki knows them all and poses for them.
Because that's what the Roaring Twenties are all about. An effervescence of artistic circles and a desire to enjoy without thinking about the future. Topical thoughts for today's masked world. The Roaring Twenties are bound to inspire. The Mademoiselle Louison studio is therefore determined to keep on laughing with you in Belle Époque mode, and soon to make you enjoy 1920s accessories for even crazier sessions!
FEEL LIKE A COSTUMED PHOTO ACTIVITY?

Mademoiselle Louison invites you into her private studio in the heart of Paris and dresses you up with vintage outfits and accessories from the Belle Époque.
Dressed as in 1900, you will experience the portraitsof yesteryear with serious and amusing stagings.
A personalised photo souvenir to make on your own, in a group, as a duo or as a family.