The Belle Époque rarely evokes the idea of a liberated woman. However, any photo in 1900 fashion is a tribute to the women of that time, women who worked every day in awkward but wildly elegant clothes. Under every skirt, a character, a personality. And it is you who are now wearing it to the studio!
Dare to wear a hat
Look around you, the streets of our towns and villages are not the place to be for hatted heads. And even though fashion has brought the headgear back into fashion, there are still few of us who dare to wear it. However, when you dare, when you join the hat club, you realise that the accessory enhances all your outfits. The hat embellishes, affirms and protects. To wear the headgear is to dare a singular signature. In a uniform world, it is a simple element to feel unique again. And there is no shortage of models!
It's a real step to dare to wear a hat. When you take the first step, with a beret, a bonnet, a gavroche, a feutre… when you feel that proud look it gives you; you want to go to all the hatters and milliners displaying windows on your way. The hat is comforting. The hat keeps you warm. The hat allows certain looks. The hat completes the personalised outfit. And the materials! The colours! The accessories! Felts, velvets, straws, cotton, feathers, ribbons, beads, brooches…. no limits to your fantasies. Shyness is quickly dispelled by the possibility of finding or having created a fashion accessory that is just as addictive as a piece of jewellery.
Tribute to women with a haughty bearing
When you come to the studio, whether it's your approach or a gift session from a loved one, your eyes sparkle as soon as I show you the selection of hats. You already have your 1900's outfit, your accessories to complete your look, and I invite you to finalize your outfit with these head constructions from the past. You are all speechless and I feel that you are living the dream of wearing such beauties. You bow to these relics of 1900, respectful and touched to be dressed in these century-old hats. You are afraid to drop them. You are like petrified. I don't want to use hat pegs.
Alors je vous rassure. I am trying to put you at ease about the possibility of bringing them down. As I speak, you straighten up. I remind you that you are at your "Lady 1900" personalised photo session. Get comfortable and let go… I tell you the story of the elegant women who wore high tops. Self-confident or at least too busy to worry about this compulsory accessory for them to go about their activities of any kind. We walk together towards the mirror where you discover yourself in Belle Époque mode. And suddenly there is a deep breath. You are that tribute to women with the haughty bearing. You've made the right move in time. The "back to 1900" adventure can begin.
The headgear show
Mademoiselle Louison's retro photo studio has become the salon of headgear. It is once again the fashion houses of the time on parade. The only difference is that the fair is open to everyone. There are no longer separate classes. There is no longer any need to wait for a particular event in the present to take place. The event is now. And this is your moment. For a few hours you are the focus of attention. My nest becomes your living room to pay tribute to you. It is a choice to take time for yourself.
Experiencing a photo shoot like in the Belle Époqueis always quite moving. Certainly you aspire to an unusual experience and at the same time you challenge yourself to be the model of the day. You are in front of the camera in unusual clothes. So many challenges at the same time!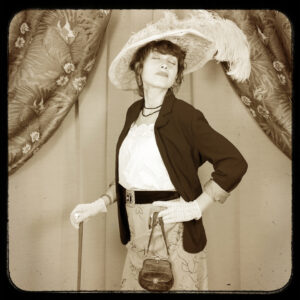 So I advise you to experience it as a discussion with your ancestors. For ladies you pay tribute to the women of your past generations. Those of your family trees which have not necessarily left a written trace but a few aged snapshots. And for some, it is very disturbing to recognize themselves in our great-great-great aunt. There is something touching about transmission that touches us all.
Tribute to liberated women
I didn't think that the creation of the Mademoiselle Louison studiowould bring me so many emotions. Your confidences are precious. Your looks of wonder and exclamations of joy are immeasurable happiness.
I had imagined a nice and fun activity. I discover a stunning immersive experience. Letting go leads us together to these striking vintage atypical portraits. There is a history of trust between us that leads us to develop unique settings for each of your types. In the end, you are paying tribute to yourself. You free yourself in front of the lens. You dare to put yourself forward. And above all, you dare to do it with outfits that are far from your usual outfits.
So ladies, once again "Bravo! ". Thanks to you, I am flattered to pay tribute to today's liberated women. See you soon for your appointment with my… your hats!
FEEL LIKE A COSTUMED PHOTO ACTIVITY?

Mademoiselle Louison invites you into her private studio in the heart of Paris and dresses you up with vintage outfits and accessories from the Belle Époque.
Dressed as in 1900, you will experience the portraitsof yesteryear with serious and amusing stagings.
A personalised photo souvenir to make on your own, in a group, as a duo or as a family.