At first, you come for portraits in retro "Belle Époque" clothing, and then finally you experience a "role-playing"photo session in which you are the hero that invigorates your ego. Welcome to this sweet meeting with yourself.
Getting to know your character
When you enter the Mademoiselle Louison studio, you are welcomed into the photographer's family nest. From your first steps, you are in confidence because I share my lair with you. I open my cocoon to you so that you can let go of the restraint often used when visiting public places. I'll let you familiarise yourself with my home, with the outfits and accessories available to you. My welcome is gentle and kind. Our link is being built. We get to know each other. You hear me explain the steps that will follow during our photo session in which you are the hero.
I have already thought about you, about the staging that will be yours and that will evolve with the rhythm of our exchanges. As the vintage clothes cover you, you become more familiar with your character. You become one with the studio when you see yourself in the mirror. This is the first item on the 'Back to 1900' menu that will take place. Each accessory has been chosen to match your outfit and your personality. Each piece is deliberately chosen so that you can gradually become part of this old-fashioned role-playing game, the character that will be your figure during the shooting that will follow.
The retro outfit that makes you the hero
You are in place. The spotlights come on. I will start my ballet. I will constantly rearrange every detailof your outfit to achieve a perfect balance between what you exude and what I perceive. The retro outfit you are the hero of must be perfect for the attitudes you take. Dressed at the beginning as an overly elegant suit of which you would not be worthy, it gradually becomes that of which you are the legitimate body. Your complexes disappear and I see you bloom.
I am one who loves and tenderly blows the wind of confidence, play, humour and self-mockery. No form and no sign can limit us in our actions. Much more than a retro photo session, it is truly a session where your assets, your flaws, your complexes become the heroes. Let the wide hips, the scars, the hated profiles, the hidden breasts, the traces of life come out of the wardrobe with your retro outfit.
I always have a dance of joy for everyone. Because I enjoy photographing you. You embrace this scene that is yours. You are no longer playing the fictional hero of the past, you are fully imbued and liberated. The session tips over. The role-playing game comes into its own. The poses will follow one another. You have jumped through time and it is exhilarating. For you. For me. And afterwards, for those around you who will discover you like this.
Being in action with your fictional character
Projecting oneself in a photo session is most often imagining oneself in frozen poses, tense smiles far from natural, bright eyes, high eyes and breasts in front. A natural and relaxed attitude of course! When you wear vintage, you step outside the clichés. I offer you the opportunity to have fun. Once the photo on the chair has been finalised, we go together to put your fictional character into action.
We use what you like today to rock your retro session of the moment. Do you like dancing? So let's get moving! Do you like painting? Let's get the brushes moving! You set the tone for the shoot. I simply accompany you. I can sometimes push you but always gently, a guide to enjoyable historical role-playing. A kiss, a bare shoulder, an unveiled leg…. you surprise yourself! You will be even more delighted when you get into action with your Belle Époque character.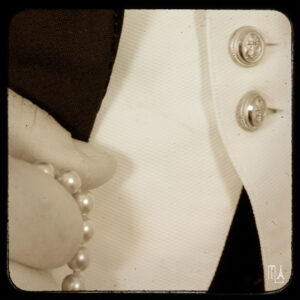 And why not be the gentleman burglar Arsène Lupin in Paris in 1900s for a few hours? The king of disguise! We have all dreamed, to a greater or lesser extent, of covering ourselves with a top hat, a melon or those huge felted shapes adorned with feathers and ribbons. There is a kind of pride in being honoured in this way.
Get out and live: you are the hero!
The Mademoiselle Louison photo activity that you have given yourself, or that you have received as a gift, is a delicious bath of youth. You don't play the grown-ups like you did as a child, you play the hero of a historical re-enactment. After the initial jitters, you embraced your vintage suit, brought the fabrics of the past to life, juggled the props and your loosest poses.
It's like going out indoors. This is the antagonism of the cool shot in the spotlight. Tired but cheerful, you come out of your retro photo session refreshed. Something in you has awakened. Action wakes us up and reveals us.
Let's say it loud and clear, the retro photo session by Mademoiselle Louison makes sense because it is the photo session where you are the hero.
FEEL LIKE A COSTUMED PHOTO ACTIVITY?

Mademoiselle Louison invites you into her private studio in the heart of Paris and dresses you up with vintage outfits and accessories from the Belle Époque.
Dressed as in 1900, you will experience the portraitsof yesteryear with serious and amusing stagings.
A personalised photo souvenir to make on your own, in a group, as a duo or as a family.