The story of a photo session in the Mademoiselle Louison studio is always the story of a slice of life, of an idea that germinates in contact with the retro and of your desire to fully play the role of your former self. And for you ladies, it's time to choose your 1900 woman.
Paying tribute
As transparency is part of the Mademoiselle Louison adventure, I might as well tell you that the very name of the studio is a tribute to my grandmother, a dressmaker. The light-hearted nickname of Louison had been with me for a long time, and when it came to finding a name for my new business, there was no need to brainstorm with friends, former colleagues or family: Mademoiselle Louison was the obvious choice for my upcoming photo signature.
A few months later, I realise that "paying tribute" was the key to the project from the start. As the studio was being built, I discovered the world of china and I felt more and more the sincere homage that antique dealers and experts pay to the objects of the past. There is a great respect and love for these relics that have survived the years. I tried on the first few outfits to get a feel for being a "1900 woman". I needed to visualise myself in what was going to be your role-playing attire at the studio.
Be the 1900 woman of your dreams
The months of research went by and the time came for the first shots in "Belle Époque" mode. It was a pleasure to finally realize what I had imagined both in terms of the outfits worn and the staging. My priority was, and still is, to highlight your uniqueness by using the retro 1900s shift. You are the central element.
The success of the unique portrait lies in the alchemy between my creativity and your personality. I am always open to your suggestions. Obviously, when a young woman walks through the door of the Mademoiselle Louison studio, I like to steer her gradually towards character breaks if I feel that the temperament goes with it. And I am equally moved by the desire for a gentle, tender and romantic session. All attitudes have their place in this retro-style role play for atypical photo portraits. Because we all want you to be the 1900 woman of your dreams.
Dare to take a retro photo as a 1900s woman
Inspiration flourishes everywhere. Market reports, stalls at the Puces de Saint-Ouen, brocantes de France, copies of the Mode Illustrée, historical readings …. the sources are limitless! And then suddenly, at an impromptu dinner, while you are talking about the future tributes you would like to pay to the committed women of the Belle Époque, a volunteer dares to tell you that there is no need to wait and that she will gladly be your model to be your Hubertine Auclert. This is unexpected. It is gratifying. It is confidence that gives wings in the construction of a project.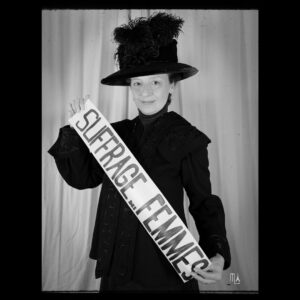 The studio takes a turn that I had not imagined. The 1900's woman by Mademoiselle Louison is liberated! The project becomes more artistic, more personal, but still oriented towards others.
It's a real step to come and do retro photo portraits, even more so in "Belle Époque" clothing. It's daring the retro photo portrait. And following my interests, it is also today daring to take retro committed photos. Many of you now want to be photographed as a "French suffragette". The banner sits in my living room, ready to be held up for a portrait with the point raised. Ô! Pleasure! Some even used this picture as a profile picture for the "International Women's Rights Day" on 8 March
Never forget
I blew the "1 year" of the studio in November 2020. I had not imagined a launch year in COVID mode, absence of tourism, absence of life, confinement and all the disenchantments that this could engender.
And yet, ever since I chose the name in homage to my grandmother, and through the quirky portraits I can make today, I always remind myself to never forget that there is no perfect moment but moments to live. That there is no past time but scenes to relive. That in any period of history, we must never forget to look for the forgotten men and women who left their mark on their time. Never forget while moving forward. By living in the moment. By daring to commit. By varying your projects.
I am fully committed to the Mademoiselle Louison studio. I like to energetically inhabit your retro photo shoot to give you an unforgettable moment. And for those who want the female version, I happily celebrate the 1900 woman you have decided to revive.
FEEL LIKE A COSTUMED PHOTO ACTIVITY?

Mademoiselle Louison invites you into her private studio in the heart of Paris and dresses you up with vintage outfits and accessories from the Belle Époque.
Dressed as in 1900, you will experience the portraitsof yesteryear with serious and amusing stagings.
A personalised photo souvenir to make on your own, in a group, as a duo or as a family.